« Uniform Success | Main | Why I pay more to park at the airport »
November 27, 2005
Egg and Muffin Toaster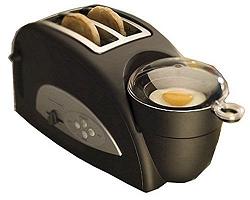 I think Seth has it wrong. In a world where time is short and our multi-function tools are over complicated, there is a place for a single purpose device that does one thing and does it well.
All you need for most cooking is a sharp knife, a covered pot, and fire. (Or a tin-can.) But good tools for specific tasks make things easier.
The single cup Brew 'n Go Personal Coffeemaker is not right for offering coffee at dinner parties but it is perfect for a lone coffee drinker with a commute. In the same way the Egg and Muffin Toaster may not be for everyone, but it is perfect for somebody. And in a world where the simple, perfect iPod whipped a field full of do-everything media-player-radio-voice-recorders, I think that niches of focused utility are what many consumers want.
Posted by Bob Pritchett at November 27, 2005 03:27 PM
Trackback Pings
TrackBack URL for this entry:
http://blog.logos.com/mt-cgi/mt-tb.cgi/17
Comments
I'll give you that it could be a good product for someone, but the questions remain: 1. How many someones? 2. How can the company reach those someones - in sufficient quantity and time to meet their profit requirements? 3. Can the someones afford the product (even if they want it)?
Further, just how practical is it? Granted, practicality has never been a stopping point for many Xmas gifts - but what happens if one component - the poacher for example - breaks? You've got a toaster, ham warmer, and...ashtray?

Posted by: Mary Schmidt at November 28, 2005 10:05 AM
This is great! I see a breakfast bar with dozens of these on high-tech black carts wheeled about by designer gowned babes so that customers can have the freshest, hottest meals around. This is the place to bring your clients for that unique power breakfast!
Back of the envelope says $1,225,000 can open this by 2/1/2006. Who's in?
Posted by: wfeather at November 28, 2005 03:09 PM
Mary, those are all classic questions which products of general utility face, too. I don't think there's any difference here -- and, in fact, I think that this device is getting a lot more attention, and exposure to a lot larger audience, than a general toaster / appliance would, precisely because it is so highly specialized.
Posted by: Bob Pritchett at November 28, 2005 05:16 PM
Oh, how often we all, Mr. Godin included, seem to forget one simple thing:
It's about what consumers ACTUALLY buy, not what we think they would want to buy if they're like what we think they are like and act rationally in some way we think they should act and they ...
Current Amazon.com Sales Rank: #4 in Kitchen & Housewares
(I'll leave it to you whether you believe the stats.)
I design retail web interfaces for a living. I've long since given up on trying to predict what will work with users/customers. You make your best guess and then test, test, test. In the end, it's all about what interface works or what product sells.
Isn't this how we continue to learn? We see a product that sells even though we can't understand why. We then explore why and we end up learning something in the process.
Posted by: Richard Warzecha at December 1, 2005 11:58 AM
Post a comment
Thanks for signing in, . Now you can comment. (sign out)
(If you haven't left a comment here before, you may need to be approved by the site owner before your comment will appear. Until then, it won't appear on the entry. Thanks for waiting.)