« Life in the alley is getting boring | Main | Kirkus Reports looks at Fire Someone Today »
January 10, 2006
How clear is your sign?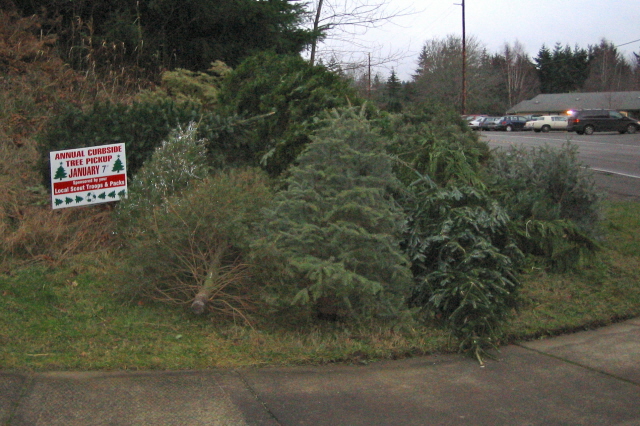 Every year after Christmas the Boy Scouts pick up and recycle local Christmas trees. It is a great service that saves a lot of hassle and raises money for the scouts through donations.
Saturday was pick-up day, and on Friday I listened to the instructions on local radio as I drove out of my neighborhood. "Take all the ornaments and tinsel off the tree and leave it at the end of your driveway Saturday morning. The scouts will pick-it up for free, but they will knock on your door and ask for a $10 donation."
During this announcement I drove past yet another neighbor unloading a dead Christmas tree from his truck. He threw it onto the pile next to the Boy Scouts' sign announcing the weekend collection and drove away.
My first thought was anger. What kind of person buys a live tree each year, has a vehicle that can carry it, and is so cheap that they won't give the scouts $10 for hauling it away?
Then I looked at the sign.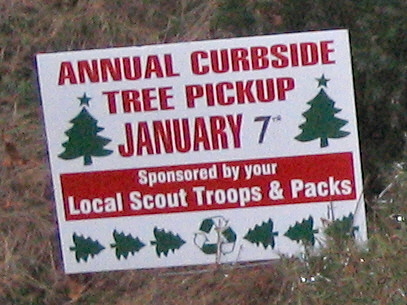 There is no mention of a donation, and it is not clear that this particular curbside, at the entrance of the neighborhood and in front of no house, is not where you are supposed to leave your tree. The pile of trees already sitting there only grants more permission.
Now the scouts have been doing this for years, and have gotten the word out in the paper and on the radio, so this reminder sign probably doesn't excuse too many cheapskates. But I imagine it would be more effective if instead of "Sponsored by…" it read "Scouts will collect your tree at your curb and suggest a $10 donation." Drivers might miss the small print, but no one preparing to drop a tree would.
You can not put your whole story on every sign, but you need to make sure you put the important points there. Unless you want to haul off a bunch of deadwood for no compensation.
Posted by Bob Pritchett at January 10, 2006 04:00 AM
Trackback Pings
TrackBack URL for this entry:
http://blog.logos.com/mt-cgi/mt-tb.cgi/51
Comments
Post a comment
Thanks for signing in, . Now you can comment. (sign out)
(If you haven't left a comment here before, you may need to be approved by the site owner before your comment will appear. Until then, it won't appear on the entry. Thanks for waiting.)