« Does your business look authentic? | Main | Life in the alley is getting boring »
January 06, 2006
Low cost restaurant evangelism
I eat out more than I should, and I love it.
Before a trip I research area restaurants in advance. At home I am one of the first to visit every new restaurant in town. And I tell everybody who cares, and quite a few who don't, about my discoveries. (I even post some reviews at Judy's Book.)
If a restaurant is good I email an endorsement to the whole office. If it is great I ask for a brochure or menu I can leave at our reception desk. And then I ask myself, why am I asking the restaurant how I can help bring it business? Why isn't it asking me?
That's why I was impressed with Sensa, here in Bellingham, where after a great meal I opened the folder with my credit card receipt to find a comment card, a business card, and a small brochure describing their menu and banquet facilities -- all of which I put to use.
Do you put a card or brochure in every box or bag for your customer to share with a friend? Your most enthusiastic customers want to spread the word about your business. Are you providing tools to make it easy for them to share their good experience?
01/07/06 Update: Yesterday I had a boxed lunch from Gretchen's at a meeting and saw this example of integrating a card right into the packaging.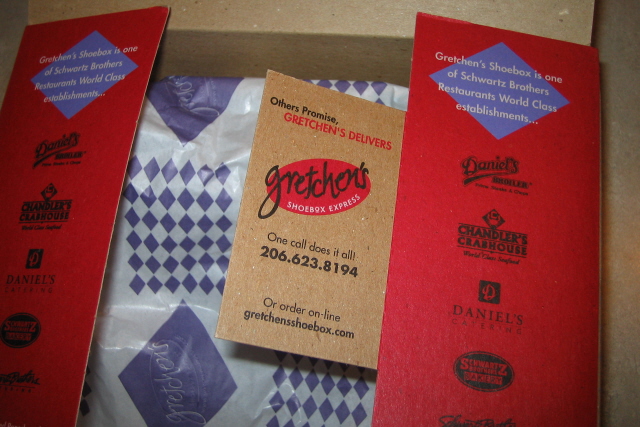 Posted by Bob Pritchett at January 6, 2006 06:01 AM
Trackback Pings
TrackBack URL for this entry:
http://blog.logos.com/mt-cgi/mt-tb.cgi/48
Listed below are links to weblogs that reference Low cost restaurant evangelism:
» Ways To Give A Restaurant Gift Card from Ways To Give A Restaurant Gift Card
We also accept Give Gift Certificates along with our own Gift Certificates. the sample [Read More]
Tracked on June 1, 2008 02:38 AM
Comments
Great suggestion for success Bob! I will have to do that if I ever start a restaurant, and recommend it to my friends who already do. Thanks for sharing!
Posted by: Phil Gerbyshak at January 7, 2006 08:33 PM
Great post! I remember the first time I asked Nordstrom to ship something to me... I mean, how can that be memorable? I was amazed when I opened the box, which contained maybe $30 in stuffed animals for my daughter. First, the shipping box had another (gift) box inside it. The box was wrapped with a bow. Inside, the items were wrapped in tissue paper that had been clasped with the associate's business card. All that work just to get me an item the store I was shopping at was out of.
Oh... and they waived the shipping charge since they didn't have it when I wanted it. Amazing!
As for the restaurant comments, I seek out a "local" place every time I travel. I'm not as good as you are at spreading that word, but I tend to evangelize the places I frequent, and pretty actively. Its one small way to give back to a business that does a good job, and it typically doesn't cost me anything except a small investment in good will, so what the heck!
Posted by: Chris at January 8, 2006 08:32 PM
Post a comment
Thanks for signing in, . Now you can comment. (sign out)
(If you haven't left a comment here before, you may need to be approved by the site owner before your comment will appear. Until then, it won't appear on the entry. Thanks for waiting.)