« Sorry, we're closed | Main | The Attorney General as extortionist »
December 28, 2005
Grow your brand one step at a time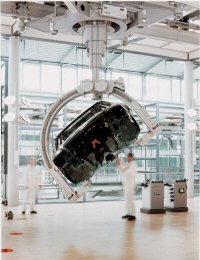 This photo tour of the Volkswagen Phaeton plant is really impressive.
Equally impressive is how dead-on right the prediction of, um, everybody, was that putting out a $70,000 - $100,000 car with a Volkswagen badge would fail.
Branding counts. By many accounts the Phaeton is a great car. I wouldn't mind driving one myself. But it was just too far outside the Volkswagen brand, and in November Volkswagen admitted it.
Brands like Honda, Audi, and others have successfully moved upscale, but one step at a time. It is hard to do it in a single leap.
Posted by Bob Pritchett at December 28, 2005 6:44 AM
Trackback Pings
TrackBack URL for this entry:
https://ancientblogs.logos.com/mt-cgi/mt-tb.cgi/38