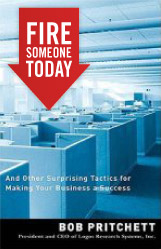 "Bob's book is like a year's worth of lunches with someone who has been way down the road and taken a lot of lumps–who can now help you avoid repeating his mistakes. And you only have to buy once."
Buy the Book
---
Maybe because it sounds greedy, small businesses in particular do not generally talk about profit. Instead they focus on their secondary purposes and lose sight of the primary purpose.
If there was a book of business poetry it would be full of odes to cash. Cash is the only life and death issue for your business. There are lots of important things you can worry about--people, products, service--but they are important because they impact cash. Businesses with cash live. Businesses without cash die. Profit is important, and it is the reason businesses exist, but it is not more important than cash. If you have the cash you can run an unprofitable company for years. Many companies in fields like bioscience have long research and development cycles and have yet to sell a product. There are a number of dot-com companies still in business today that have never earned a profit. They are all in business because they have cash in the bank.