« "Let's be clear: this is a robbery..." | Main | Authentic advertising, cyborg style »
April 13, 2006
Fire Someone Today is now available!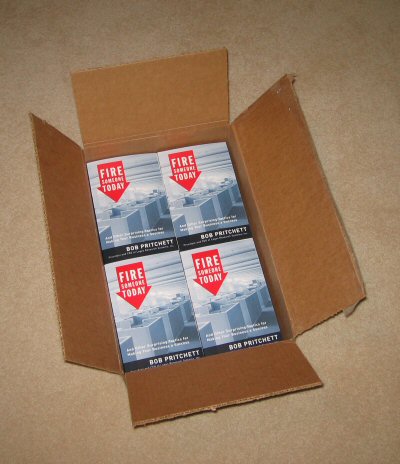 You'll find Fire Someone Today in Borders, Barnes & Noble, and other retail stores, as well as at online retailers like Amazon.com, Powells, etc.
Writing Fire Someone Today was a great experience. It forced me to review the lessons I have learned about entrepreneurship and business over the years. It helped remind me of things I need to be doing regularly to continue to grow and improve my business. My hope is that you will find it useful in your business, too.
I look forward to hearing your feedback at bob@firesomeonetoday.com. Tell me what you like and don't like, and about the best lessons you have learned in your business.
And if you do like Fire Someone Today, please tell someone! I would really appreciate your taking a moment to rate or review it at Amazon.com or your favorite online retailer.
Posted by Bob Pritchett at April 13, 2006 05:00 AM
Trackback Pings
TrackBack URL for this entry:
https://blog.logos.com/mt-cgi/mt-tb.cgi/88
Comments
Post a comment
Thanks for signing in, . Now you can comment. (sign out)
(If you haven't left a comment here before, you may need to be approved by the site owner before your comment will appear. Until then, it won't appear on the entry. Thanks for waiting.)