« Fire Someone Today is now available! | Main | Ups and downs at Amazon.com »
April 14, 2006
Authentic advertising, cyborg style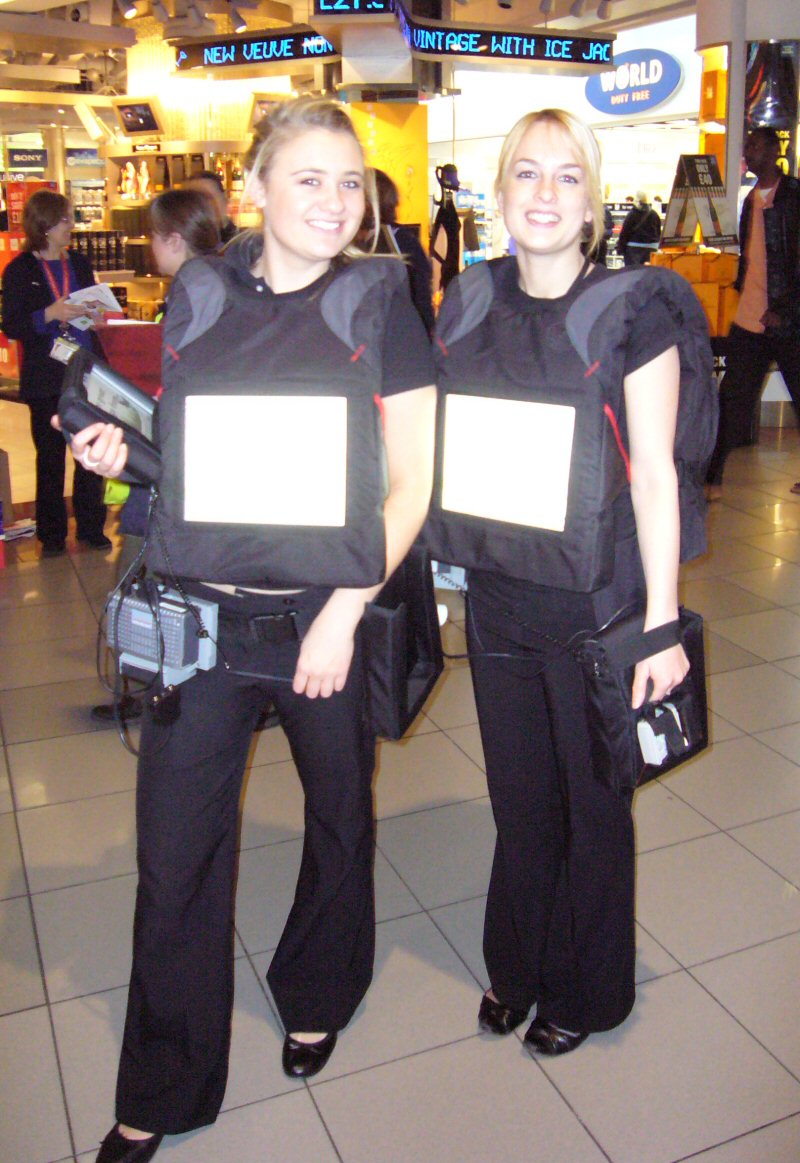 In London's Heathrow airport the other day I was stopped by these two young ladies doing a teletubbies impression.
I had previously seen the LCD-in-a-shirt employed to promote the King Kong MasterCard in Times Square. For King Kong, the LCD was very well integrated into the shirt, with the extra hardware hidden. On a dark street, with wild clips from the movie playing seemingly straight from the promoter's belly, it was quite disconcerting.
In airports I am used to more conventional advertising than in Times Square, so these bulky cyborg-linebacker contraptions really stood out. The cheerful salesladies offered a choice of a coupon for whiskey or chocolate. Taking the chocolate coupon (printed-on-demand from the back of a wrist), I asked if the chocolate was any good.
"I don't know. They haven't let us try it," one told me.
"Or the whiskey!" added the other.
It reminded me of Seth Godin's excellent book, All Marketers Are Liars, The Power of Telling Authentic Stories in a Low-Trust World. A pretty girl wearing a video screen is as blatant a "look at me!" advertisement as there is. But it is also a chance to tell a story, because unlike a poster or billboard, your live saleslady can actually talk to your customers. Maybe she should get to try the product.

Posted by Bob Pritchett at April 14, 2006 05:00 AM
Trackback Pings
TrackBack URL for this entry:
https://blog.logos.com/mt-cgi/mt-tb.cgi/89
Listed below are links to weblogs that reference Authentic advertising, cyborg style:
» Carnival of Marketing #23 from devinreams.com
This week I'm hosting the Carnival of Marketing and I've got 7 great articles to share with you. Enjoy! Seth Godin - Marketing in the Car Business "We should not try to educate or teach the customer about what he or she wants." ... [Read More]
Tracked on April 17, 2006 06:17 AM
Comments
You can't be 81628 serious?!?
Posted by: Mary Box at August 15, 2006 01:26 PM
Post a comment
Thanks for signing in, . Now you can comment. (sign out)
(If you haven't left a comment here before, you may need to be approved by the site owner before your comment will appear. Until then, it won't appear on the entry. Thanks for waiting.)