« March 2006 | Main | May 2006 »
April 24, 2006
Carnival of Marketing
Welcome to this week's Carnival of Marketing!
Jack Yoest's thoughtful post on Wilberforce and Gapingvoid connects two great successes that I have long admired but had not, until now, ever thought about as marketers. Or likely to appear in a single paragraph.
Virginia Miracle looks at the importance of a name that clearly represents your product. When you are making a cheesy, over-the-top action/horror flick about a plane full of snakes, you can't call it "Pacific Flight 121." It has to be "Snakes on a Plane."
Noah Brier looks at user generated content in the context of the advertising industry. But what struck me most about his post were the implications for non-advertising content. "The branding opportunities of the future lie in the filtering and repackaging of content." If he is right, the new media future bodes well for old media brands.
Robbin Phillips blogged an article by Laura Casey on why we need to name things. It made me think about the two vacuums in my house: one is named "the vacuum", and the family regards it as one of the villains Laura mentions. The other is called "Roomba" and it is treated like a particularly industrious pet.
"The single biggest thing you can do to build your brand is to make promises and keep them." J. Timothy King points out that all the branding in the world doesn't mean a thing if you don't deliver the package.
Spike Jones looks at Delta's new plan to have their long-suffering employees volunteer to clean planes on their own time.
Despite the hype, there is never much new in business or marketing. The basics are ancient. That doesn't mean we don't need to be reminded again. Denise O'Berry does just that by suggesting you differentiate your business by doing the simple things no one does anymore. Like answering the phone.
Look for the Carnival next week at Global Market Development!
Posted by Bob Pritchett at 12:04 AM | TrackBack
April 21, 2006
So how do they handle the bags?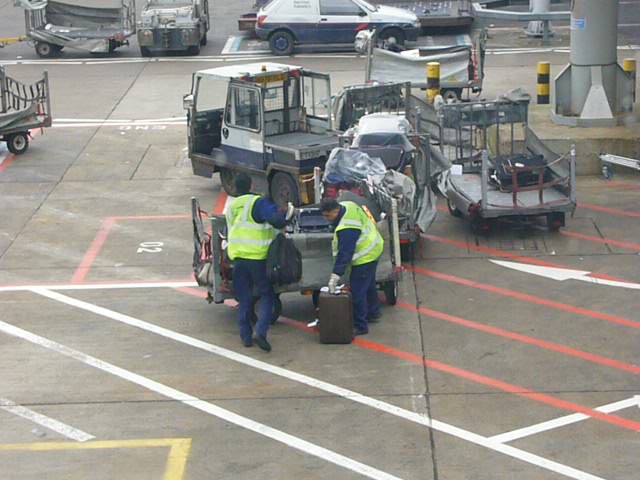 Watching the baggage loading from the airplane window I was surprised to recognize my own bag. Knowing that it contained a fragile and possibly antique Moroccan wall hanging, I cringed when I saw it tossed roughly from one cart to another.
I'd been playing with my digital camera, so I decided to record the bag's next movement on video. My bag (and wall hanging) made it; I just hope there was nothing fragile in the bag that appears from the right. :-)
(Click the image for a not-very-dramatic 3.5 meg QuickTime movie.)
For the record, I love the new Panasonic DMC-FX01. It is a great camera, and I especially appreciated the image stabilization and the wider angle lens.
Posted by Bob Pritchett at 5:00 AM | TrackBack
April 20, 2006
Visit everyone in person
Chapter 16 of FIre Someone Today is titled Visit Everyone in Person. Kathy Sierra, in her post Why face-to-face still matters!, introduces some neurobiological explanations for why communicating face-to-face is so important, even in a world of email, instant messaging, and video chat.
Posted by Bob Pritchett at 7:52 AM | TrackBack
April 18, 2006
Eos and better options for flying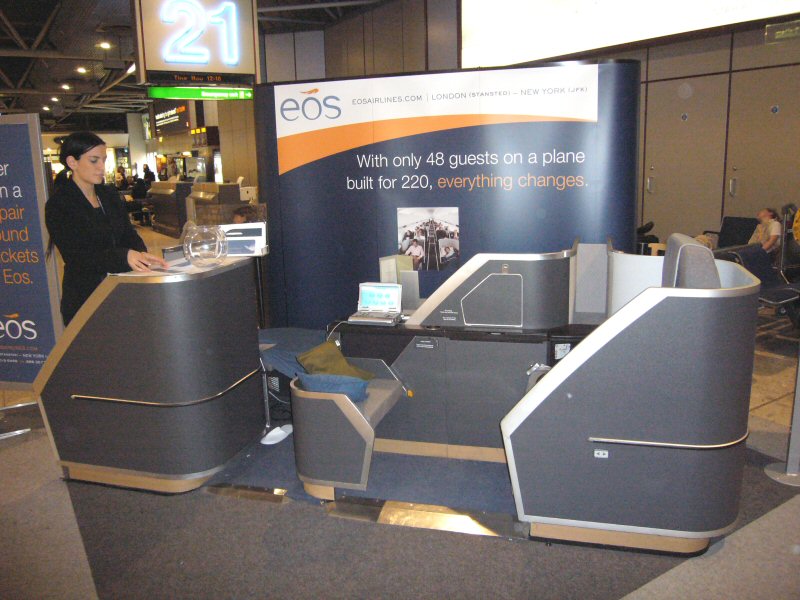 Eos Airlines is making a dream come true: an airplane where every seat is first class, at less than the cost of normal business class. Sadly, the dream is only available from New York to London.
Still, I am encouraged to see more creativity in the airline industry. This is a business where we need some new ideas. As for me, though, I don't need luxury. I don't need a lie-flat bed or boutique dining. I don't want to pay double to be pampered. But I would pay more for 4 more inches in seat width and legroom. Keep your china and linens; just let me not rub shoulders with my neighbor.
Posted by Bob Pritchett at 5:00 AM | TrackBack
April 17, 2006
Carnivals
The Carnival of Capitalists is up at Free Money Finance, and you will find the Carnival of Marketing at devinreams.com.
I am hosting the Carnival of Marketing next weekend, so don't forget to send your submissions to bob@firesomeonetoday.com by the afternoon of April 23rd.
Posted by Bob Pritchett at 7:57 AM | TrackBack
Reading Contracts
Chapter 13 of Fire Someone Today is about contracts: The One Who Writes Wins. In it I mention that you can find surprisingly specific contracts to use as examples and inspiration when writing your own.
One great site for finding real contracts is FindLaw for Corporate Counsel. It has thousands of contracts organized by industry and type: employment agreements, licenses, merger documents, stock option plans, etc.
For example, if you were going to rent your own house to your company for business purposes, you might want to read the details of Martha Stewart's $2 million-a-year agreement with Martha Stewart Living Omnimedia, Inc.
Posted by Bob Pritchett at 5:00 AM | TrackBack
April 15, 2006
Ups and downs at Amazon.com
Thursday was the big mailing to my customer list, and the promotion pushed Fire Someone Today as high as #27 in overall sales rank at Amazon.com, and #8 in Business and Investing.
Today sales are still strong, with FST #14 on the Business and Investing Top Sellers, #86 overall.
Watching the sales rank hour-by-hour is fun, but it is the reviews and ratings I am even more interested in. I was happy when the first Amazon review gave FST five stars, but then disappointed (okay, upset) to see that the review was really a form of spam.
The spammer cleverly recycled part of the editorial description of FST to make the "review" look legitimate and appropriate, and then provided her own content to promote another book on outsourcing, a subject I don't address. All of the "reviews" posted by this spammer promote this other book.
What's worse is that 18 of 28 people found this spam review helpful.
I would love to see lots of five star reviews, but I would like to earn them.
To all of you who have purchased Fire Someone Today, thank you! I appreciate the support and hope you will find it useful. I am looking forward to your ratings and reviews.
To all of you who have not purchased it yet, what are you waiting for? It is a best seller with a five star review! :-)
Posted by Bob Pritchett at 10:19 PM | TrackBack
April 14, 2006
Authentic advertising, cyborg style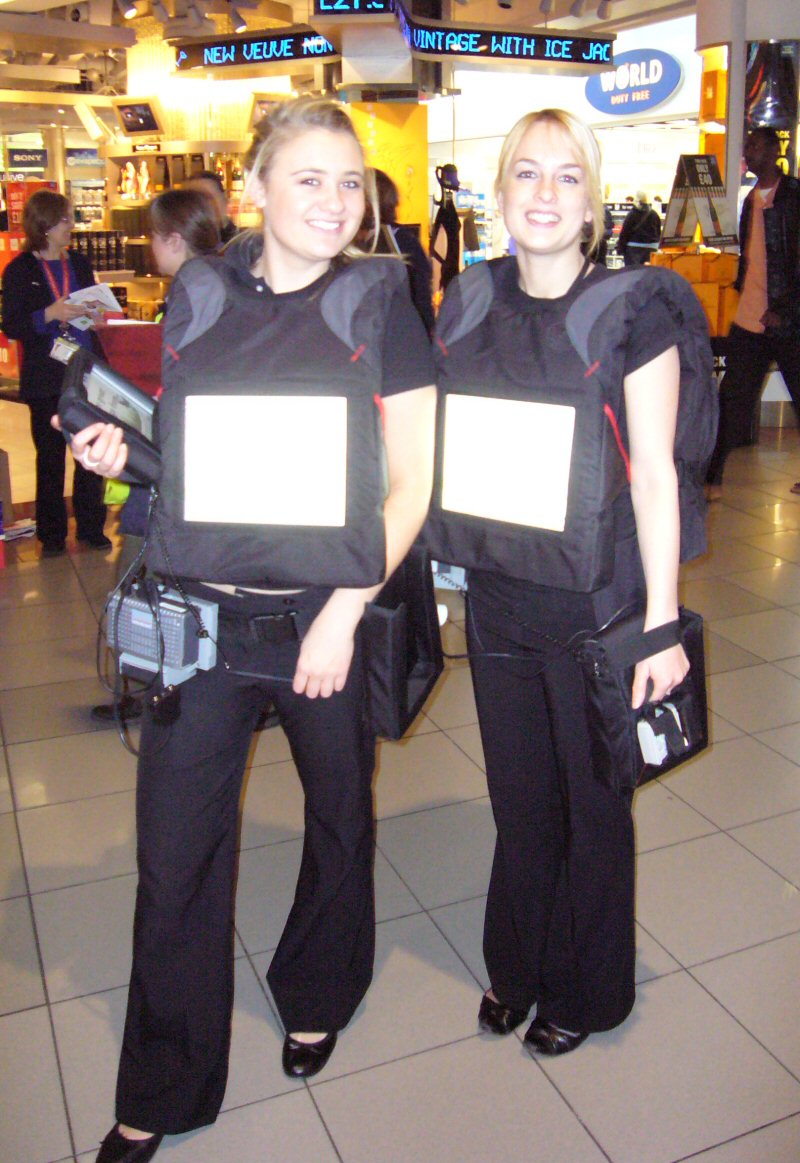 In London's Heathrow airport the other day I was stopped by these two young ladies doing a teletubbies impression.
I had previously seen the LCD-in-a-shirt employed to promote the King Kong MasterCard in Times Square. For King Kong, the LCD was very well integrated into the shirt, with the extra hardware hidden. On a dark street, with wild clips from the movie playing seemingly straight from the promoter's belly, it was quite disconcerting.
In airports I am used to more conventional advertising than in Times Square, so these bulky cyborg-linebacker contraptions really stood out. The cheerful salesladies offered a choice of a coupon for whiskey or chocolate. Taking the chocolate coupon (printed-on-demand from the back of a wrist), I asked if the chocolate was any good.
"I don't know. They haven't let us try it," one told me.
"Or the whiskey!" added the other.
It reminded me of Seth Godin's excellent book, All Marketers Are Liars, The Power of Telling Authentic Stories in a Low-Trust World. A pretty girl wearing a video screen is as blatant a "look at me!" advertisement as there is. But it is also a chance to tell a story, because unlike a poster or billboard, your live saleslady can actually talk to your customers. Maybe she should get to try the product.

Posted by Bob Pritchett at 5:00 AM | TrackBack
April 13, 2006
Fire Someone Today is now available!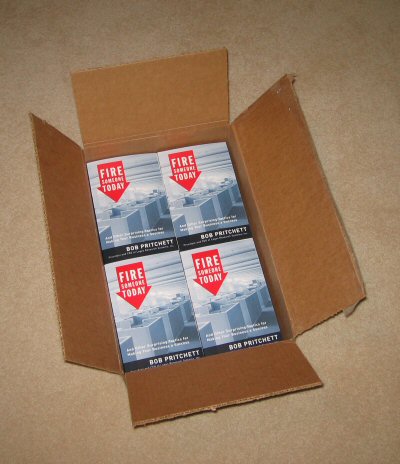 You'll find Fire Someone Today in Borders, Barnes & Noble, and other retail stores, as well as at online retailers like Amazon.com, Powells, etc.
Writing Fire Someone Today was a great experience. It forced me to review the lessons I have learned about entrepreneurship and business over the years. It helped remind me of things I need to be doing regularly to continue to grow and improve my business. My hope is that you will find it useful in your business, too.
I look forward to hearing your feedback at bob@firesomeonetoday.com. Tell me what you like and don't like, and about the best lessons you have learned in your business.
And if you do like Fire Someone Today, please tell someone! I would really appreciate your taking a moment to rate or review it at Amazon.com or your favorite online retailer.
Posted by Bob Pritchett at 5:00 AM | TrackBack
April 11, 2006
"Let's be clear: this is a robbery..."
I have not made a long-distance call from a hotel phone in years. I always use my cell phone. Overseas I can usually find a calling card that works out to about ten cents per minute for calls to the US; in a pinch, the cell phone is only a dollar or two a minute.
But the blue card attached to the phone cord in the Hilton intrigued me. It promised "An end to hotel phone hang-ups." Maybe hotels were finally becoming reasonable, I thought.
How about London to the US for around $7 per minute? An hour long call to the US would be $418.49. A quick check shows that I can fly from London to New York (round-trip!) for $453.
"Hilton's phone rates mean calling from your hotel room has never been easier to understand." They are right. I understand perfectly.
Posted by Bob Pritchett at 5:00 AM | TrackBack
April 10, 2006
Playing Berber or chump in the souks of Marrakech
I love Marrakech! I have been here for a few days, for an EO educational event, and it has been close to perfect. The people, the food, and the weather are all great. Moroccan mint tea, served here at every occasion, will soon be served at every occasion in my home, too.
The souks were incredible. These covered markets, which snake through endless narrow passageways, were filled with meat and produce and lamps and rugs and clothes and spices and all the other necessities of life.
Many stalls offered the same products. Identical Moroccan tea pots, wooden boxes, and cheap daggers were available every few meters, all sourced from some central factory-for-the-production-of-tourist-goods.
What was different, though, from the bazaars in so many other places I've visited was the amount of hand production happening right in the shop. In many stalls, just two or three meters square, craftsmen were cutting fabric and sewing, stamping intricate patterns onto metal boxes, and building beautiful furniture. I saw a vendor staining glass for Moroccan lamps while his neighbor hand-bent sheet metal into ductwork. I saw a teenaged boy hand carving twin bed frames (stacked six high) in a shop just large enough to hold them.
Larger scale operations, like dying wool in big cauldrons, were just around the corner and down the quieter alleys. Donkey-drawn carts provide just-in-time inventory control for the tiny factories, moving raw materials and finished goods in and out.
For fresh poultry, you can't beat having the butcher in arms-reach of both the live chickens (in cages on the wall behind him) and the customers (across the chopping board in front of him).
Haggling is a way of life in the souks, and I gave it my best effort. I escaped a rug merchant without buying, despite the mint tea and full court press. I think I paid more than I could have for an unusual tea pot, but (by walking away) I got an antique wall hanging down from $1,200 to $100. I too was told that I trade like a Berber.
Well, I think it was an antique. Maybe they faked the weathering. Maybe I am not like a Berber. Maybe I am like a chump.
I am happy with what I paid for everything I bought. I would pay those prices at home for those items, and a quick search of the Internet doesn't show any better price on comparable items. But the process made me suspicious. What if my good friend across the table, who closed our deal with an elaborate hand-shaking, heart-touching ritual, isn't just a good salesperson? What if he's a good liar?
I know it's the culture. I know it's a sport. But haggling wore me out. It took forever, and whatever extra margin the salesman may have squeezed from me, he was the loser in the end. Because he had no clue how much stuff I liked in his large shop.
Once I saw that he would not quote a price for anything ("we'll put it on the table and discuss one price for everything when you are done shopping") I refrained from expressing interest in any large item. I might have bought that large lamp or mirror (or carpet!), and been willing to ship it home, but I had no idea of the true value and no easy way to discover it. If the tea pot goes for 50% of starting price, and the wall hanging for 8%, how do I find out if I can even afford a lamp or mirror or carpet? I can live with paying 10, 20, or even 50% too much on something small, but I won't risk it on something big.
A business speaker I once heard said that even in the US everything is negotiable. It may be true, but I am glad that I don't have to spend half an hour bargaining for everything I buy. I like my souvenirs, and the stories I now have to go with them. But the best transaction of my day was the no hassle, no haggle, ice-cold, fixed-price Diet Coke I bought for sixty cents.
(Should I have paid 40 cents?)
Posted by Bob Pritchett at 5:00 AM | TrackBack
April 7, 2006
Bursting with flavor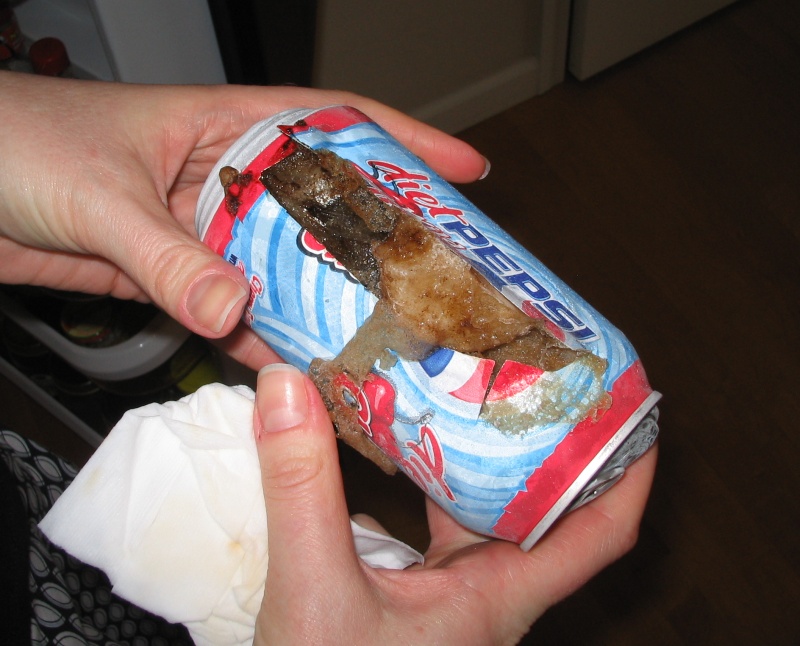 Freeze with care.
Posted by Bob Pritchett at 5:00 AM | TrackBack
April 6, 2006
An expert on writing a book
I have never become an expert on anything as quickly as I have become an expert on writing a book.
There are lots of fields in which expertise is hard-earned over years of work and study. Everybody can see the long road to becoming an expert and they won't call you one until you are far down that road.
Writing a book, and having it published by a "real publisher", is not one of those fields.
There is a curtain between "I have an idea for a book" and "my book is published." For the past year everybody I have met who hasn't passed through the curtain, but wants to, has been treating me as an expert. But I'm not very far down the road to expertise on writing and publishing a book; I just passed through the curtain.
For example, if I were truly an expert, I would have anticipated Bookfat and avoided it.
True expertise is still further down the road.
Posted by Bob Pritchett at 5:00 AM | TrackBack
April 5, 2006
Ignoring the job well done
An employee stopped by my office to tell me that Walter was worried I might be unhappy with him.
I was flabbergasted. Even a bit annoyed, I confess. "Why would he think that? Walter's doing a great job."
"Well, you haven't stopped by his desk in over a week."
"I haven't needed to. He's doing a great job!"
At the start of the project I was at Walter's desk at least once a day, making sure he understood the project and answering design questions. I'm pretty sure I was an encouraging presence: I was excited about each day's progress and complimentary about his work. In fact, I was so happy with how Walter was handling things that I stopped by less frequently. Knowing that Walter had it all under control, I gave my attention to other projects.
Walter didn't see my absence as a compliment, though, especially since it followed a period of lots of attention.
The analytical part of me thinks Walter is just too sensitive. In our company, if you're doing a bad job, you're going to know it. We'll talk about it, fix it, or set you free to find a job you can do well. So being left alone means you're doing a good job.
The undernourished feeling part of me knows that everybody needs to be encouraged. Everybody needs to hear "great job!" and they can never hear it enough.
I may be able to manage well with my analytical brain. But to lead well, I need to tap my feeling heart.
At least that is my analysis.
(Apologies for wasting time stating the obvious. I needed this reminder for myself, and posted it for the benefit of fellow under-encouraging leaders.)
Posted by Bob Pritchett at 5:00 AM | TrackBack
April 4, 2006
Peer-to-peer learning for business leaders
When I joined the Young Entrepreneurs' Organization I was surprised to learn that I had to participate in a training session before I could participate in the small group meetings, called Forum. I had participated in a monthly, industry-specific CEO roundtable before, and I was a bit cynical about needing training just to join a meeting of entrepreneurs. It seemed silly.
I was wrong.
I have been involved in YEO for almost a decade now, and consider it one of the best learning experiences of my life. The best part is that the learning is peer-to-peer. While YEO does offer access to some amazing classroom experiences, most of what I learned was from other entrepreneurs, in our Forum meetings.
I learned by hearing others present problems, by presenting my own issues, and from the shared experiences of others around the table. And the unique structure and rules of a Forum meeting made it possible. Forum is safe, confidential, and incredibly productive. Advice is forbidden. In Forum, nobody can give you "the answer," they can only share their own experience. It is a small but powerful distinction.
YEO is now EO, the Entrepreneurs' Organization. Within EO, which serves businesses with over $1 million in sales, YEO is for entrepreneurs under 40, and WEO (World Entrepreneurs' Organization) for those over 40. There is also YPO (Young Presidents' Organization) and WPO, where the businesses are typically larger and the members lead companies they may not have founded. (It was in YPO that the Forum concept was developed.)
Joining a peer group is a smart move for any business leader. Joining a peer group using the Forum structure is even smarter.
Posted by Bob Pritchett at 5:00 AM | TrackBack
April 3, 2006
Nephew art signs are a tragic waste
A sign should enhance your brand and communicate a positive message about your business. It doesn't have to be beautiful, but it does need to be appropriate.
I expect magic-marker-on-cardboard signs at the farmer's market. And I expect well-lit permanent signs on retail businesses. What amazes me is how many businesses invest a lot in high-end sign hardware and nothing in the sign content.
(In fact, "nephew art" is a recognized problem in the professional sign business, and the source of many ethical dilemmas.)
A local bank has 18 branches and an acceptable logo. They did not ask the graphic designer to show them how to use the logo on signage, though. Every time I drive past their large, expensive, backlit, ugly sign, I think to myself that this bank doesn't know what it is doing. (I was amazed to find out they have 18 branches.)
A local real estate agency spent a fortune on signs I see all over town. It is clear they didn't spend a penny on what the sign looks like. The "art" is straight out of a word processor.
As a rule of thumb, you are wasting money if you didn't spend a quarter of the cost of your new sign on the art. (This is why the magic-marker-on-cardboard signs are okay. At the farmer's market.)
As a rule of life, you are wasting money if you have a sign made with art created in Microsoft Word. Or using the Papyrus font.