« December 2005 | Main | February 2006 »
January 31, 2006
"Checks and money orders that I receive will be shredded."
Long ago, when I was a teenage entrepreneur, I spent a few hours with John T. Reed. In one afternoon he gave me a specific piece of advice on pricing that made me thousands of dollars. He also illustrated, through stories and the example of his business, the power of understanding exactly what you want to do and structuring your business around that understanding.
I love the How to Order page on Reed's web site, which explains why orders for his books are not accepted by phone, fax or mail. It is so far from the standard idea of customer-friendly that it borders on customer-hostile. But that is the point: it is friendly to the customers he wants and repulsive to the customers he doesn't want. Reed is focused on the customers he wants and on the service he is willing to provide. And he has the sense to know that there are lots of customers not worth having, particularly for his low-overhead operation.
Does ten percent of your overhead go to problems with one percent of your customers? Could you redesign your business to exclude a whole class of service problems?
Posted by Bob Pritchett at 4:00 AM | TrackBack
January 30, 2006
Carnival of the Capitalists
The Carnival of the Capitalists is up at Phosita.
Posted by Bob Pritchett at 10:51 AM | TrackBack
When no one tracks your industry
Every time I read a business magazine detailing how this company or that won X points of market share from a competitor, or is the preferred choice of Y% of consumers, I wish that there was someone tracking my industry, too.
But small, private businesses are not followed by analysts, and JD Power and Associates is not surveying customer attitudes about me and my competitors.
Every year I conduct a detailed survey of my customers. I get some great feedback on our business, but very little information on how we are doing in respect to our competition. So last year I redesigned the survey to be more generic and invited my competitors to participate. Every business that agreed to email the survey to their customer list got equal access to the survey results. Almost all of my competitors participated.
The anonymous survey covered demographics, sales channels, product usage, and brand perception. I learned which market segments I was strongest and weakest in. I learned how my competitors' customers viewed me. And I got to see, at last, a big picture view of my industry and my place in it.
Before you survey your customers, see if you can survey your whole market instead.
Posted by Bob Pritchett at 4:00 AM | TrackBack
January 27, 2006
Survey says...
I crave feedback. That is why I love SurveyMonkey.com, which makes it easy to build a survey on any subject in just a few minutes and to collect and analyze the responses. I use it to survey my employees and customers all the time. I have conducted anonymous surveys for 360-degree reviews, collected and collated conference registrations, and solicited suggestions on improving the company Christmas party.
Small surveys are free; for $19.95 per month you get larger surveys and other benefits. And (how convenient!) you can try it out by answering my tiny survey about this blog. Because I crave feedback from you, too.
Posted by Bob Pritchett at 12:04 AM | TrackBack
January 26, 2006
Web keyboard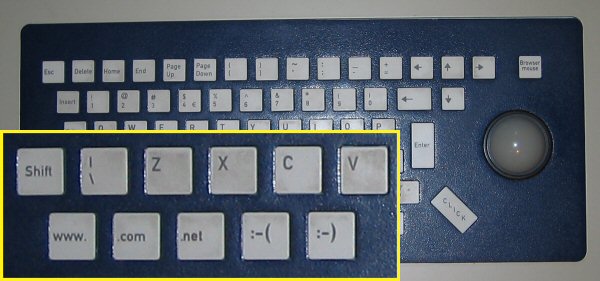 What? No https://www.firesomeonetoday.com key?
Posted by Bob Pritchett at 4:00 AM | TrackBack
January 25, 2006
Loews Hotels win me over
When I stay at a smaller hotel chain I rarely sign up for the frequent guest program. The benefits are too remote to be worth the hassle. I am already enrolled in lots of other programs; how likely am I to stay 15 nights a year at this new chain in order to earn a free newspaper?
My first visit to a Loews Hotel was different, though. At check-in I learned that the Loews First program offers the newspaper, room upgrades, late check-out and a free welcome amenity from the very first stay. I signed up on the spot, and that evening found a huge bag of goodies sitting in my room. I had requested the "regional gift," and the Tastykakes and other items were a welcome Philadelphia treat.
It was the message, not the gift that won me over: Loews wanted to treat me well from the first stay, not after I had proven myself to them.
Posted by Bob Pritchett at 4:00 AM | TrackBack
January 24, 2006
Good thinking at airport security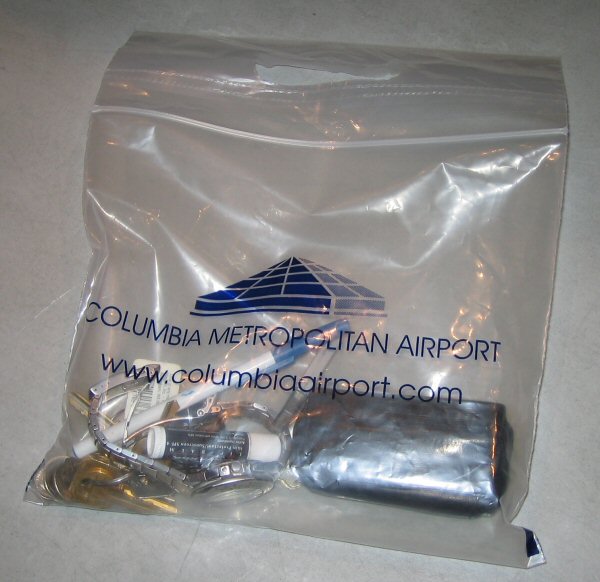 After all the whining I have done about the hassles of airport security, I am glad to finally have something good to say.
At the beautiful little Columbia Metropolitan Airport last week I found a rack of Ziploc-style plastic bags for carrying all your metal accessories through security. Placed well before the x-ray machine, these bags made for faster throughput. Amateur travelers weren't holding up the line while they filled and unfilled buckets with coins, keys, watches, cell phones, etc.
I put mine in my laptop case for reuse, and I hope to see them at more airports in the future.
Posted by Bob Pritchett at 4:00 AM | TrackBack
January 23, 2006
Keeping things in the families
I started my business with an unrelated partner; my father, mother, and brother joined early on. And over the years that has been a pattern: we don't just hire people, we hire families. More than a quarter of our employees have a family member working here, too.
We have two quartets of mom-dad-sons. A dad-daughter pair. Three sisters. A dad-son-cousin triplet. And husband-wife pairs? Lots, both hired and "grown on-site".
People from the same family often share the same values and work ethic. Chances are, a great employee comes from a family of great employees. (And if not, the family knows it. I have been encouraged not to hire someone's relative, too.) Having so many family connections throughout the company also improves inter-department communications. We have a killer grapevine.
We try to avoid having family members in positions where they supervise each other, and there are some downsides: We have lost employees in pairs because of a family relocation. It can be awkward when we choose not to hire an employee-recommended relative.
Overall, though, the experience has been great. "Our corporate family" it is more than an empty phrase, and I like it that way.
Posted by Bob Pritchett at 4:00 AM | TrackBack
January 22, 2006
Naked Conversations book launch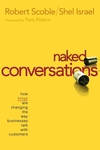 Congratulations to Robert Scoble and Shel Israel on Naked Conversations, their new book on business blogging.
After a long day of cross-country travel (I got up at 3:30 am -- eastern!) I hung around Seattle until the launch party last night. Fortunately there were lots of interesting people to meet and I managed to stay awake, there and all the way back to Bellingham.
I just got my signed copy last night, and I am really looking forward to reading the book. My blogging, both here and for Logos, isn't really "naked". It tends to be planned and scheduled, and less conversational. As a company, we have been transparent in conversation with our customers, but mostly through our newsgroups, where there is plenty of interaction, but less discoverability and a smaller community.
Maybe I need to loosen up? I'll read the book and find out.
Posted by Bob Pritchett at 7:24 AM | TrackBack
January 20, 2006
Get thee to Buckley
Sign up for The Buckley School of Public Speaking right now.
I still have a day left, but I don't need more time to recommend this program. The Buckley School is one of the best values in professional education. Our class of ten meets in a purpose built room under the constant care of Reid Buckley and six wonderful coaches and staff, supplemented by three outside professionals brought in to share their special expertise.
Every student is getting personal attention and honest, detailed feedback. There is no time wasted in the day, and we have been graciously hosted two evenings in a row.
The method is confrontational and at times uncomfortable, but always in a friendly and encouraging context. And it is effective.
Mr. Buckley is in his seventies. Though full of vim and vigor, I fear (for you!) that he might too soon choose more pleasant pursuits than untying the tongue of yet another would-be-speaker. Don't miss your chance to learn from him personally.
(I am told that the program is already sold out until summer, except for the just-added session in April.)
Posted by Bob Pritchett at 3:00 AM | TrackBack
January 19, 2006
And the answer is...
No, the Buckley School schedule is not allowing me time to blog. It is after midnight as I write this, and I am not done with my homework yet!
Today, after the initial pleasantries, they had us up on stage right away: under the lights, addressing camera and crowd. An unsparing critique followed immediately.
Tomorrow promises more of the same, only with less pleasantries.
Posted by Bob Pritchett at 4:00 AM | TrackBack
January 18, 2006
On the road
Just in case, a note of warning: I am at the Buckley School of Public Speaking for the remainder of the week, and I don't know if the school's schedule or rigors will allow for posting here before Monday.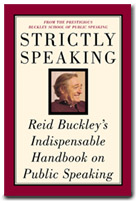 I haven't started the instruction yet, but I have been reading Reid Buckley's Speaking in Public and Strictly Speaking, and they are wonderful. Strictly Speaking is more directly applicable to the kind of speaking business leaders do, but both have been entertaining, inspiring, and humbling.
Posted by Bob Pritchett at 4:00 AM | TrackBack
January 17, 2006
May I have your card?
I became an entrepreneur because I had a passion for the product. As a young geek entrepreneur, I thought everyone wanted technical details, a cost-benefit analysis, and time to make the right decision. The product would sell itself.
At my first trade show I spent my booth time explaining our product in detail. I answered questions thoroughly and made the case for stocking our product to each retailer I met. I was accumulating a pocket full of business cards.
My sales manager had a pocket full of orders. He took me aside to share his superior technique:
"At the end of the conversation, say 'May I have your card?' And when their wallet is open and they are handing you their business card, say, with a smile, 'No, I meant your credit card.'"
It doesn't matter how good the product is. You need to ask for the sale.
Posted by Bob Pritchett at 4:00 AM | TrackBack
January 16, 2006
Carnival of the Capitalists
This week's Carnival is up at Wordlab.
Posted by Bob Pritchett at 9:28 AM | TrackBack
Advertising Mexico with a terrarium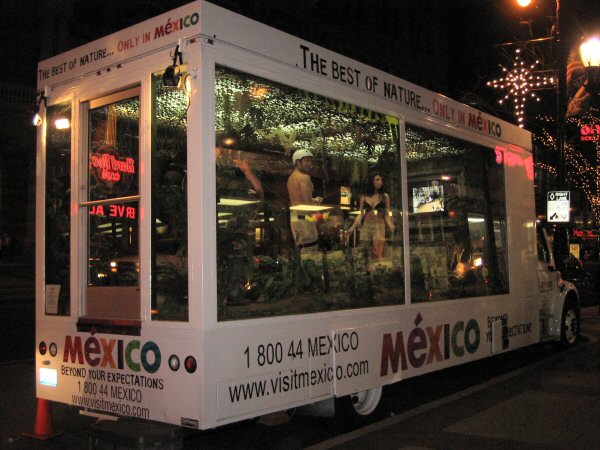 On a cold Philadelphia night I encountered this life-sized terrarium as I hustled from the convention center to my hotel.
Is this kind of advertising worth the cost? I like advertising that can be measured in terms of return on investment. Image advertising has its place, with Coke, Pepsi and other mass producers. It may be impossible to tie this billboard to that moment of liquid refreshment, but ad expenditures can be mapped to market share and sales volume. Coke gets the benefit of Coke's image ads. Does every Mexican tourist business get the benefit of a general increase in Mexican tourism? Does this kind of non-specific advertising even increase tourism?
Advertising financed by government agencies or government-mandated collectives always make me uncomfortable. Sure, every small tourist business in Mexico can not afford to advertise in Philadelphia. But spreading the cost of that advertising over the whole industry may not return the benefit equally. And without careful tracking of the return on investment, cool and innovative ideas (bikini-clad girls on cold winter streets) push out boring but potentially more effective resource use.
Of course, the campaign is award winning. I just wonder if the award is for cleverness or effectiveness.
Posted by Bob Pritchett at 4:00 AM | TrackBack
January 13, 2006
Shoe Shine Guy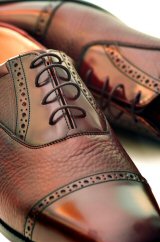 I am too lazy to shine my own shoes. So when I am in a Nordstrom store I stop by the usually very quiet, very empty shoe shine stand.
I always figured that Nordstrom runs shoe shine stands as marketing tools, to reinforce their brand message of quality shoes and incredible service. At $2.50 a shine for a labor-intensive service offered inside, off the street, how can there be enough customers to call it a business?
There probably can't be, if you think of it that way. But a walk through a different Nordstrom shoe department taught me that you don't have to think of it that way.
At this Nordstrom the shoe shiner had all his seats occupied; when he saw me nearby he called out that he would be available quickly.
Once seated, I asked the young man if he shined shoes full time. "Yes," he told me, "it is how I make my living, and I appreciate your business." When I lamented that I lived too far away to visit regularly, he suggested I drop off a bag of shoes when driving by, promising quick service. He gave me a card and offered to shine shoes I mailed to him. And as he worked he kept recruiting customers from passers by, queuing them up and keeping the seats filled.
He got a good tip, and I got more than a good shine: I got another lesson in how a little hustle and a great customer service attitude can line up business at the quietest of locations.
Posted by Bob Pritchett at 4:00 AM | TrackBack
January 12, 2006
Read for Cash
I want my employees thinking about the big picture, so every year I run a Read for Cash program and pay them to read business books. This year's program ended on Monday and saw the largest participation yet, with nearly a third of our employees reading and reporting on at least one book.
The rules were simple:
The book has to be approved by me.
Payment will be made if a short (one paragraph to one page) book report is sent to the AllOffice email alias. It doesn't have to be brilliant and it won't be graded. It should show that you read it, tell us whether or not you found it useful, and whether or not you'd encourage others to read it.
Payment will only be made for pages read in "whole book" units.
Payment will be made at the rate of $0.15 per page using the last page number in the book. Maximum payout for one employee is $175.


In just over a month, 32 employees read 104 books on marketing, sales technique, business history, leadership, and customer service. The mini-book reports were great: the readers extracted the key points of the book and often included their own thoughts on how we could put to use what they had learned from the book. In an anonymous survey afterwards, participants rated the program 4.6 on a scale of 1-5.
Participants were evenly split on their primary motivation -- learning or cash -- but 96% said they read books they would not otherwise have read, and 100% said that what they learned was applicable to their job or personal life.
Posted by Bob Pritchett at 4:00 AM | TrackBack
January 11, 2006
Kirkus Reports looks at Fire Someone Today
Kirkus Reports reviewed an advance copy of Fire Someone Today and says:
"Pritchett's witty and straight-shooting style make this feel less like a business manual and more like insider advice from a successful friend. ...this no-nonsense collection of real-life business experiences may even find you laughing out loud."
Fire Someone Today will be out in April, and is available for pre-order now at Amazon.com and Barnes & Noble.
Posted by Bob Pritchett at 4:00 AM | TrackBack
January 10, 2006
How clear is your sign?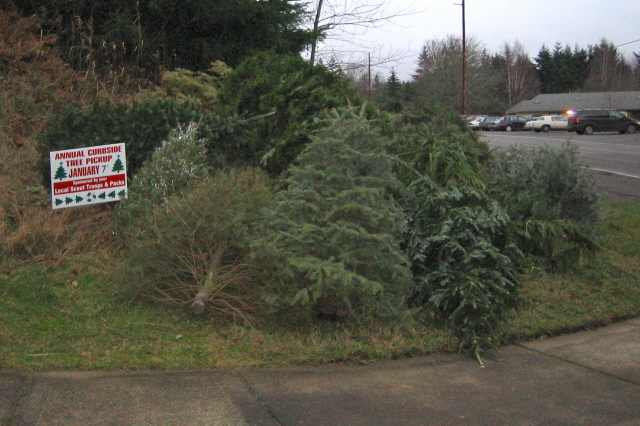 Every year after Christmas the Boy Scouts pick up and recycle local Christmas trees. It is a great service that saves a lot of hassle and raises money for the scouts through donations.
Saturday was pick-up day, and on Friday I listened to the instructions on local radio as I drove out of my neighborhood. "Take all the ornaments and tinsel off the tree and leave it at the end of your driveway Saturday morning. The scouts will pick-it up for free, but they will knock on your door and ask for a $10 donation."
During this announcement I drove past yet another neighbor unloading a dead Christmas tree from his truck. He threw it onto the pile next to the Boy Scouts' sign announcing the weekend collection and drove away.
My first thought was anger. What kind of person buys a live tree each year, has a vehicle that can carry it, and is so cheap that they won't give the scouts $10 for hauling it away?
Then I looked at the sign.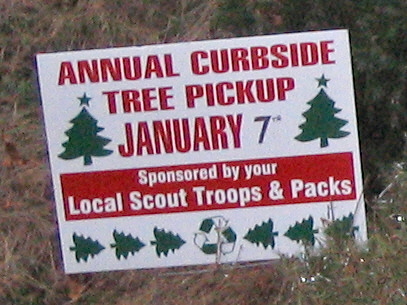 There is no mention of a donation, and it is not clear that this particular curbside, at the entrance of the neighborhood and in front of no house, is not where you are supposed to leave your tree. The pile of trees already sitting there only grants more permission.
Now the scouts have been doing this for years, and have gotten the word out in the paper and on the radio, so this reminder sign probably doesn't excuse too many cheapskates. But I imagine it would be more effective if instead of "Sponsored by…" it read "Scouts will collect your tree at your curb and suggest a $10 donation." Drivers might miss the small print, but no one preparing to drop a tree would.
You can not put your whole story on every sign, but you need to make sure you put the important points there. Unless you want to haul off a bunch of deadwood for no compensation.
Posted by Bob Pritchett at 4:00 AM | TrackBack
January 9, 2006
Life in the alley is getting boring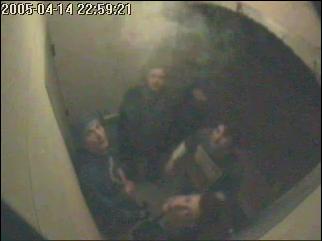 Bellingham, Washington is no metropolis. The "bad part" of downtown is a corner, not a neighborhood. Still, all too often we would open the back door into the alley behind our office and find something unpleasant: graffiti, trash, broken glass, or fluids of indeterminate origin.
Building codes forced us to recess doorways as part of some remodeling, creating quiet little alcoves for crime, passion, and slumber out of rain and sight.
Last year we installed a surveillance camera over the backdoor in hopes of making our little nook just a little less attractive. It worked: the very first night we captured this scene (Windows Media), in which four smokers discover the new camera and decide to move along.
In the days that followed we were entertained and outraged at our video dailies, but after installing better lights and some signs announcing the presence of the cameras the footage became pretty boring. We like it that way.
Posted by Bob Pritchett at 4:00 AM | TrackBack
January 6, 2006
Low cost restaurant evangelism
I eat out more than I should, and I love it.
Before a trip I research area restaurants in advance. At home I am one of the first to visit every new restaurant in town. And I tell everybody who cares, and quite a few who don't, about my discoveries. (I even post some reviews at Judy's Book.)
If a restaurant is good I email an endorsement to the whole office. If it is great I ask for a brochure or menu I can leave at our reception desk. And then I ask myself, why am I asking the restaurant how I can help bring it business? Why isn't it asking me?
That's why I was impressed with Sensa, here in Bellingham, where after a great meal I opened the folder with my credit card receipt to find a comment card, a business card, and a small brochure describing their menu and banquet facilities -- all of which I put to use.
Do you put a card or brochure in every box or bag for your customer to share with a friend? Your most enthusiastic customers want to spread the word about your business. Are you providing tools to make it easy for them to share their good experience?
01/07/06 Update: Yesterday I had a boxed lunch from Gretchen's at a meeting and saw this example of integrating a card right into the packaging.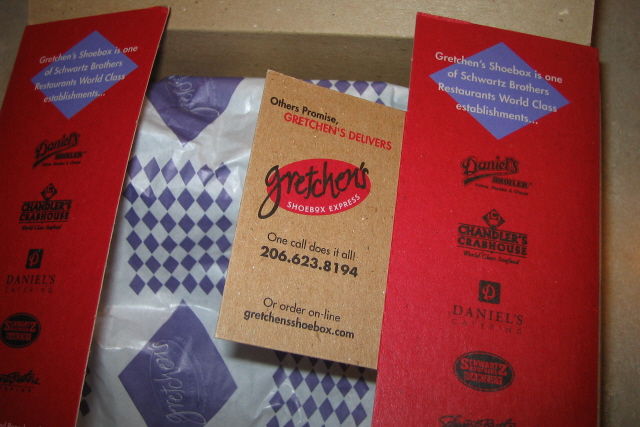 Posted by Bob Pritchett at 6:01 AM | TrackBack
January 5, 2006
Does your business look authentic?
I got a clever marketing approach by email. A vice president at a corporate finance company forwarded a message from one of his market analysts that read:
Bob,
One of our market analysts has brought to my attention that our firm could be a good partner for supporting your growth strategy. Are you available for a brief teleconference this week, or perhaps early next week would be better?
Best regards,
[name]
[signature block]
[forwarded message]
…

The email did not look like spam. The forwarded email from the Market Analyst asked the sender if he had heard back from us. All the details were consistent with what the email said, and full contact information was provided in both signatures -- the forwarded message and the one sent to me.
So I did the first thing I do when anybody I don't recall sends a follow up email. I checked my email archive and googled the company name.
Six months before the VP had sent me an identically worded email forwarding a very similar email from the same market analyst. Smells like an automated pitch.
The company name, amazingly, brought up only two hits on Google. One was their corporate web site, which described lots of deals they had done but with no client names. Real estate, $2,000,000; Biotech Equity, $7,000,000; plastics ~ debt, $3,000,000. Really? How do I know?
The second was a social networking site where the purported Market Analyst revealed himself to be the company's "database ubermeister" and an idiot. Okay, that's not fair. Let's say lovable goofball without the sense to keep his employer's name off a site where he says "haha! I'm smarter than you!" and reveals that he is divorced, a Sagittarius, and looking to meet "somebody like me but with boobs...[cruder stuff, and] fewer tattoos than my mom".
In All Marketers Are Liars (I loved this book!) Seth Godin talks about "the power of telling authentic stories in a low-trust world". When your story is "we are a strong, professional financial partner who can help support your growth strategy" authenticity is important. This firm didn't provide details to back up their story. Worse, they let details that detracted from the story rise to the top of the list.
Do you look authentic on the web? What do you do when checking out a cold caller? Have you checked out your own business the way the next person to hear your marketing pitch will?
(Thanks to Business Pundit, whose post on spying on your employees through social networking sites brought this back to mind. For what it's worth, I think you should always know what hits your company name is bringing up. You can't stop employees from having personal lives and web sites, but you can know and care if those sites reference your business or represent 50% of your corporate web presence.)
Posted by Bob Pritchett at 6:08 AM | TrackBack
January 4, 2006
Staying open around the holidays
Our company takes Christmas Eve, Christmas Day, and New Year's Day as holidays. In the past, when one of those holidays fell on a Saturday we observed it Friday; if on Sunday we observed it Monday.
In 2005 we looked at the calendar and saw a four-day closure around Christmas. We would be closed on December 23rd, when a lot of shopping was still happening, and again on December 26th when people who had found our product under the Christmas tree might be calling for technical support, or to exchange or upgrade.
We decided to stay open on Fridays and Mondays around holidays that fall on the weekend. Employees could then take the holidays as floating days in the surrounding months.
Some departments just closed down on Friday and Monday around Christmas, but all of our customer contact departments (sales, customer service, technical support) stayed open with reduced staff. We had fewer calls, which fit well with the reduced staff, and the customers who did call were surprised and delighted to find us there.
As far as I know, every employee got the holidays they wanted. Some moved New Year's Day closer to Christmas for a longer break, some saved all three days for an extended vacation in the first quarter, and some took the old schedule.
The customers got service on the standard schedule, the company got sales on three days when there would normally be no revenue, and the employees got holiday flexibility. I know this is old news in retail businesses, but it was a profitable innovation in our five day work week.
Posted by Bob Pritchett at 6:01 AM | TrackBack
January 3, 2006
Everybody hates a winner
Being number one is great. In many cases:
Customers assume you have the best product.
Good people want to work for you.
You can charge a premium price.
Partnership opportunities come to you first.
You have more resources.
It is fun!
The downside to being number one is that everybody hates you.
Sometimes number one is hated for good reasons; maybe you stepped on a lot of fingers on your way up the ladder. Often, though, number one is hated for being number one. In the article Losers Take All Jill Neimark reports on a study (Are People Willing to Pay to Reduce Others' Incomes?) in which game-losing participants sacrificed some of their own winnings in order to reduce the winnings of the game-winners. Participants weren't just envious, they were willing to sacrifice in order to pull down number one.
A few weeks ago the Economist ran a story subtitled "being second best is underrated." It points out that "Ford, Burger King and Target do not have documentary-makers queuing up to attack them" the way GM, McDonald's and Wal-Mart do, and that Apple's doesn't have as many hackers attacking its operating system as Microsoft.
Among the other benefits of second place:
You have more room to grow.
Number one takes all the heat for unpopular industry practices.
Underdogs get nicer press.
It is easier to innovate if you are not the standard-bearer.
Jack Welch famously said that you should be number one or number two in a category or get out. There is a lot to be said for being number two.
Posted by Bob Pritchett at 6:05 AM | TrackBack
January 2, 2006
Carnival of the Capitalists
This week's Carnival is up at Chocolate and Gold Coins.
Posted by Bob Pritchett at 7:04 PM | TrackBack
Three cents daily
Over the years many people have inquired about buying my company. These calls used to be pretty exciting. Like many small businesses, we were convinced that our core problem was undercapitalization. I saw a deep-pocketed acquirer as a way to address our tight financial circumstances and light the growth rocket, so whenever one came calling I rolled out the red carpet, opened the books, and started talking numbers.
Nobody ever closed the deal, and now I know why: they were smart deep-pocketed acquirers.
Our problem wasn't undercapitalization, it was lack of discipline. And with no deep pockets to prop us up we were forced to develop that discipline in order to survive. What a blessing it is to be undercapitalized.
Today I still get calls from people who want to buy or invest in our company. I politely explain that we are now able to fund ourselves internally. Still some insist on asking "How much to buy Logos?"
I never know what to say, since I don't want to sell. But now I have found a century old quotation that provides some guidance. When William Randolph Hearst inquired about the cost of buying of James Bennett's New York Herald, the reply was a telegram:
"Price of Herald three cents daily. Five cents Sunday. Bennett."
Posted by Bob Pritchett at 6:00 AM | TrackBack
January 1, 2006
Guy Kawasaki is blogging
Guy Kawasaki is a great writer and an incredibly entertaining keynote speaker. I love his funny, straight to the point approach. In a world of empty, fluffy business books and speeches Guy always delivers something I can put to use right away. His new blog is going on my daily list.
If you are reading business blogs I can't imagine you aren't already reading Guy's books, but if not, do. And don't pass up a chance to hear him speak.