« November 2005 | Main | January 2006 »
December 30, 2005
Warning: There are too many warnings
Warning: Extended reading of this blog on a computer screen may strain your eyes.
Daniel Fisher discusses warning-label overkill in Forbes after a consumer group complains that too many warning labels dilute their effectiveness.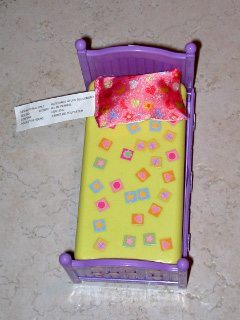 I couldn't agree more. My niece received a toy doll bed for Christmas; the less than one-inch square pillow had an attached label of nearly the same size. Is this saving lives?
Cars are terrible nags. Ugly labels are splashed across dashboards and sun visors, written lyrics to the awful chorus of electronic pings and beeps warning us to close the door, turn off the lights, and buckle up. And now it is getting worse. (Okay, now it is getting personal. But that is worse in my book.)
Our new Honda has a GPS navigation system with a disclaimer screen that comes up every time you start the car to warn you, in lots of words, that maps can be out of date. This would be annoying if it just showed every time. But you actually need to acknowledge it by pressing "Okay" before the system will come up.
Now I know that there will always be some idiot (or flustered elderly driver) who turns where there is no turn because the GPS said to. But there are lots of idiots driving on the road, and many more dangerous and likely threats to our collective safety than people turning onto non-existent roads because the little voice told them to. Why don't we have to acknowledge the danger of driving drunk, without a seatbelt, or while fiddling with the radio every time we start the car? Why don't we have to confirm that we're not still parked in a closed garage before the engine turns over and starts spewing noxious fumes? And is pressing "Okay" enough? Sometimes my children press it for me – have I been warned? Shouldn't it require a signature or fingerprint?
The warning labels are there because because of government regulations and to defend against silly lawsuits. New labels will continue to follow new regulations and new silly lawsuits. The concept of personal responsibility is dead. Soon warnings like these will be a requirement, not a joke.
For the best of the worst warning labels, see M-LAW's Wacky Warning Labels or The Warning Label Book.
Posted by Bob Pritchett at 6:10 AM | TrackBack
December 29, 2005
The Attorney General as extortionist
This kind of stuff sends chills down my spine:
Illinois State Attorney General Lisa Madigan asked 18 operators whose prices jumped significantly after Hurricane Katrina to donate $1,000 to the American Red Cross or risk a potential consumer fraud lawsuit, reports the Chicago Tribune.
If I ran a gas station I would take this deal. It is a lot cheaper than mounting any legal defense. But the whole idea of threatening businesses in this way bothers me. Plea bargains may be useful tools in the messy struggle for justice but this is a lot more like extortion. You haven't been charged, you aren't admitting guilt, there may not have even been a crime. But the AG can make it sound bad in the press and will fall on you like a ton of bricks if you don't pay up.
"If you don't want something bad to happen to your business, send a check for $1,000 to this address."
Coyote Blog, where I found the link, addresses this well, so head there for the full treatment.
Posted by Bob Pritchett at 6:13 AM | TrackBack
December 28, 2005
Grow your brand one step at a time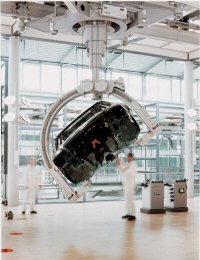 This photo tour of the Volkswagen Phaeton plant is really impressive.
Equally impressive is how dead-on right the prediction of, um, everybody, was that putting out a $70,000 - $100,000 car with a Volkswagen badge would fail.
Branding counts. By many accounts the Phaeton is a great car. I wouldn't mind driving one myself. But it was just too far outside the Volkswagen brand, and in November Volkswagen admitted it.
Brands like Honda, Audi, and others have successfully moved upscale, but one step at a time. It is hard to do it in a single leap.
Posted by Bob Pritchett at 6:44 AM | TrackBack
December 27, 2005
Sorry, we're closed
At 6:30 pm my wife called the local kitchen shop to ask when they closed.
"8:00 pm" was the answer.
After dinner she went out the door to quickly pick up a gift that I had seen there the night before. After parking and running through the rain she arrived at the door at 7:47 pm to find the shop closed.
Why was she surprised? It was rainy, and dark, and most of the other shops in the boutiquey neighborhood had closed at 6 or 7. How much business would it cost to close a little early?
A lot. Because next time my wife won't bother with the little kitchen shop. She is more likely to head straight to Bed Bath & Beyond where they are open the hours they post and don't kick you out if you linger a bit.
Honoring your posted hours is not a little-local-store versus big-national-chain issue. I have sat in a Dairy Queen at 9:05 pm and watched the staff dismiss incredulous customer after incredulous customer because, despite the 10 pm close time posted on the door, "We close at 9 pm in the winter."
Honoring your posted hours is about being trustworthy and respecting your customers. It is the absolute minimum standard for a retail business. Padding your hours like Starbucks, which opens ten minutes early and closes ten minutes late, delights instead of annoys customers. Weren't you grateful the last time you rushed to get somewhere before they closed and were let in 5 minutes after closing time?
Posted by Bob Pritchett at 6:15 AM | TrackBack
December 26, 2005
Carnival of the Capitalists
This week's Carnival is up at Multiple Mentality. My contribution was about the vomit-inducing Richard Branson and the price of being the face of your business; Yaro Starak's Carnival contribution provides the other side, explaining the benefits of being your brand, with Branson as an example.
Posted by Bob Pritchett at 10:29 AM | TrackBack
The Price of Passion
Kathy Sierra writes about The Koolaid Point (via Barry Moltz's blog), where your users become so enthusiastic about your product or service that other users or non-users start to hate it, or you, or the enthusiastic users. (Think of the abuse a Starbucks addict gets from someone who hates Starbucks.)
No one has tattooed my logo to their chest yet, but years ago I visited one of our distributors and was surprised to see our logo (in cut vinyl) covering the back window of his car. We didn't even have it on our company-owned vehicles.
Since then our users have only become more passionate. I've seen computers decorated with our graphics and homemade t-shirts made with our brand. People love our product.
Some people hate it, though. I have received near rabid emails from people who don't like our software, or our web site, or, well, all-of-you-and-the-horse-you-rode-in-on. I used to be hurt, and to spend a lot of time trying to win these people over. But Kathy has it right: trying to please everyone can lead to death by mediocrity. It is better to build something people are passionate about, and to accept the detractors as the price of passion.
Posted by Bob Pritchett at 6:13 AM | TrackBack
December 23, 2005
Run your business like a girl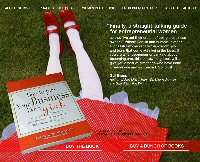 A female entrepreneur friend just sent me a link to How to Run Your Business Like a Girl. I can't help but judge books by their covers, and I am a sucker for great titles. They raise my hopes for great writing.
The web site is beautiful and to the point, as well, though it would appear that Dorothy got crushed by the book… None the less, my copy is ordered. Look for a male review here in the future.
Posted by Bob Pritchett at 6:14 AM | TrackBack
December 22, 2005
"There is not enough vomit..."
In Dream Merchants and HowBoys: Mavericks, Nutters and the Road to Business Success, Barry J. Gibbons gets to the heart of my tension with shameless self promotion: it fascinates, works, and revolts all at once. Of flamboyant British entrepreneur Richard Branson, he says:
This man does fascinate me. I have high respect for what he has achieved, and for his undoubted intuition. But sometimes when I see that bearded face in (yet another) facile photo opportunity, I reflect that, sometimes, there just isn't enough vomit in the world.
p. 26
Promoting yourself along with your business can bring lots of useful attention. People are more interested in people than businesses, so putting a person in front of the business can raise awareness and interest. But you have to be willing for people to be sick of you, not just your ad or brand.
Posted by Bob Pritchett at 6:32 AM | TrackBack
December 21, 2005
Minipreneurs and other trends
The Amazon Web Services Blog put me onto Trendwatching.com, which uses the term minipreneur to describe consumers who are becoming entrepreneurs by leveraging other businesses. Minipreneurs let other companies handle many of the high-bar obstacles to setting up a business – e-commerce, web presence, marketing, manufacturing, etc. – and focus on their specific contribution. Examples include freelancers, bloggers, eBay merchants and more.
I have seen many of the individual pieces of this puzzle, but Trendwatching.com's newsletter really pulls it together and gets me thinking about ways to leverage the trend.
Posted by Bob Pritchett at 6:14 AM | TrackBack
December 20, 2005
Promoting Entrepreneurship
The Economist has a write up on Carl Schramm at the Kauffman Foundation, which exists to encourage entrepreneurship.
I have read a number of books, and participated in programs, that came out of the Kauffman Foundation, and I applaud what they are doing. I have also thought that it is really difficult to have a foundation effectively promote something like entrepreneurship, which is so often a very personally motivated behavior. This article is an interesting look at what Kauffman is doing, and the challenges Schramm faces in leading it.
It also provides a link to the cool Hot Shot Business site, where kids can play business in an impressive simulator. My candy shop has already been smoked by the competition....
Posted by Bob Pritchett at 6:51 AM | TrackBack
December 19, 2005
Give us your fruitcakes!
I love fruitcake. But I waited too long this year, and my father and fellow fruitcake lover got his scavenging email out to the company before I did.
For years I have operated an annual rescue effort for fruitcakes (yes, the kind you can build walls with) in an attempt to deliver these much maligned masterpieces of the baker's pride from an unjust end. Yes, it is true. I am the last living lover of fruitcake. Despite tireless efforts on my part, in recent years the annual fruitcake appeal has fallen into a state of desuetude, due I am sure, to youthful callousness, ill will toward the cheerful givers of fruitcake, global warming, rising oil prices, and the general decline in fruitcake consumption worldwide. If, however, you chance to be the targeted recipient of an unwelcome fruitcake this fine holiday season, remember that you can give it a good home (however temporary that may be). I close this appeal with the stirring cry of Marie Antoinette, "Let them eat cake!"
Just don't throw them away! Save the fruitcake!
Posted by Bob Pritchett at 12:08 PM | TrackBack
Carnival of the Capitalists
This week's Carnival of the Capitalists is up at Coyote Blog.
Posted by Bob Pritchett at 8:13 AM | TrackBack
Don't torture your audience
There is no torture like being trapped in a room while a presenter slowly reads their way through PowerPoint slides.
Thankfully I do not need to watch or present a lot of PowerPoint. In our 100 person company communication is a lot more direct, and when we are out on the road selling we show the software, not our talking points.
But when I do need to prepare a non-demo presentation it sure is easy to use PowerPoint as an outliner. Unfortunately that also makes it easy to use the resulting outline in slide form as the presentation itself. And that makes me one of the torturers.
I am working to improve my slides; to turn them from bullet points to sharp, clear, visual reinforcements of my message. Shorter is better, but shorter takes longer, and well designed shorter…who has the time?
Garr Reynolds does, and you and I should make the time. His site has some great tips (though it will make you wish for an on-staff artist), and he has a great presentation blog. I particularly liked the posts on different presentation methods: Takahashi, Kawasaki, and Godin.
(Check out The Gettysburg PowerPoint Presentation.)
Posted by Bob Pritchett at 6:25 AM | TrackBack
December 16, 2005
Learning from failure in The Entrepreneurial Code
Christopher Cononico tells the story of his business failure in The Entrepreneurial Code, a fascinating blow-by-blow of a student start-up in the pre-dotcom days. (This Case Story, as he calls it, is posted online for free.)
The problem with "we hung on by our fingernails, we rolled the dice for payroll, and we made it" tales of entrepreneurial success is that you only hear about the ones who made it. Fed a steady diet of back-from-the-brink-with-a-big-gamble stories, you can start to believe that they are the cause of success, rather than an unfortunate detour along the way.
Failure is a great teacher, but too often its valuable lessons benefit only those it touches. We nurse our wounds in private and hoard our expensive education. There are not enough books and speakers on the topic of "How I went bankrupt and hurt my friends and family."
Cononico is up front about the mistakes he made and the consequences of his bad business decisions. He has done a great service by sharing his experience for the benefit of entrepreneurs who follow him.
Posted by Bob Pritchett at 6:15 AM | TrackBack
December 15, 2005
Joel on Software, shipping, and everything else
I love Joel Spolsky's writing. Joel on Software is an absolute must read for people in the software business, but don't let that put you off if you're in another business. His articles on software development are full of concepts you can apply broadly and his brass-tacks articles on business always get me thinking.
His company's recent need to ship thousands of DVD's prompted him to attack the three minutes it took to ship each one. Ideas like using 5x8 cards for packing slip invoices, to save time folding and stuffing, got me thinking about the small, time consuming tasks in our repetitive processes. A minute isn't much -- unless you are repeating the process thousands of times.
Posted by Bob Pritchett at 6:52 AM | TrackBack
December 14, 2005
Holding the book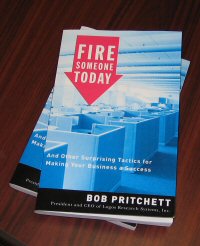 Today I got two of the advance reader copies of Fire Someone Today (and some more endorsements). I have seen the art and reviewed the final pages. But it is still cool to hold it in book form. Being in the electronic publishing business has not yet killed that special feeling about physical books; that remains a marketing challenge for my day job.
The release is scheduled for April, 2006.
Posted by Bob Pritchett at 6:11 PM | TrackBack
Hello, my name is...
Scott Ginsberg wears a nametag 24/7 as part of a commitment to being friendlier and more approachable. Five years and counting, with a nametag tattoo for backup.
It is the simplest ideas that are the most powerful. Scott has built a career writing and speaking about approachability, and it looks like he has a lot of useful and thought provoking material. I'm looking forward to reading his book and more of his articles. But as soon as you hear that Scott wears a nametag all the time, the basic premise is both obvious and challenging: Being a nice person is not enough. Being truly approachable takes initiative and commitment. And that is true for businesses as much as for people.
Posted by Bob Pritchett at 6:31 AM | TrackBack
December 13, 2005
"Over my dead body..."
"The day I'm laid out dead with an apple in my mouth is the day we'll pay commissions. If you pay commissions, you imply that the small customer isn't worth anything."
Bernard Marcus, co-founder of Home Depot, in Fortune in 1993 (by way of The Quotable Tycoon)
Now that is business leadership.
There is a reason people start businesses: to do things their own way. Advice and consensus are useful tools, but if you are an entrepreneur, you are the reason you are in business. Don't be afraid to draw some lines in the sand. If you succeed in giving your business your values, in promoting and defending them in fair weather and foul, they might even last after you are dead.
Posted by Bob Pritchett at 6:38 AM | TrackBack
December 12, 2005
Small Business vs. Entrepreneurship vs. Lifestyle Business
Peter I. Hupalo has an excellent article on the difference between small business and entrepreneurship. (Thanks BattleMan via Cash Flow Blog.)
I share Peter's perception of the small business label: Mom and Pop living above the store. This is buying yourself a job, and one with a terribly demanding boss at that. Choosing the label entrepreneur is choosing growth. It may be a small business, at least for a while, but entrepreneurs call it "a growing business". When you say "I'm going to run a small business," you're practically guaranteeing it. Forever, or at least until it dies. (Because, if you are not growing, you are shrinking.)
I'm not saying that every restaurant needs to become a chain, or that every bead shop needs to become an arts and crafts supercenter. But every self-described small business owner who is not focused on growth is probably a hobbyist (in it for love, not money), a slave (opens, closes, can't go on vacation), or an impending failure (insert-big-percentage of small businesses fail each year).
Yes, I do believe in lifestyle businesses, but a lifestyle business is just a growing business where the growth supports your lifestyle, whether it is taking time off, traveling where you want, or pursuing your personal passions through the work of the business. Running forever on the small business treadmill isn't a lifestyle, it's a life sentence.
Posted by Bob Pritchett at 8:47 AM | TrackBack
December 10, 2005
Deadlines make things happen
Fort Worth Business Press has the teen-entrepreneur story of Justin Avery Anderson, an 18 year old freshman at TCU who is two years into a moist granola business. It is a classic of the genre: kid makes a product he likes, friends and family love it, local market takes it on, Mom and friends pitch in to ramp up production.
What I like are the deadlines. Justin isn't just getting the "Hey, kids! Let's put on a show!" introduction to entrepreneurship. He lost his kitchen at the last minute and had to cold call all the caterers in town in order to deliver an order. When the market wanted to delay the launch of his fresh product for paperwork he put a deadline on them by arranging media coverage. Deadlines moved Justin's business ahead.
I love deadlines. Not the soft, self-imposed deadlines of personal goal setting, but the heavy, dangerous, externally imposed, stress-inducing, business-life-threatening deadlines that must-be-met-or-we're-dead.
Actually, I hate deadlines. I just love how they make things happen.
Posted by Bob Pritchett at 9:33 AM | TrackBack
December 9, 2005
GM can die
Coyote Blog says it's okay if GM dies, and it is okay with me, too.
Don't get me wrong – I'm not rooting for GM to die. (Well, I did wish it a few times while sitting in an Avis rental.) But the thought of what wonderful things could follow GM's collapse is pretty exciting.
Talented designers and engineers would find new employment where they could actually do something exciting, free of GM's heavy baggage. Autoworkers paid to "spend their time doing crossword puzzles" would rejoin the working workforce. There would be room in the market for competitors to create new cars and maybe even for new auto companies to emerge. GM's assets – facilities and patents and people – would be split up and placed with companies that would make more efficient use of them. Hundreds of ex-GM'ers would become entrepreneurs.
Would it hurt? Yes. It isn't called creative destruction for no reason. But how much worse off would we all be if we propped up a dysfunctional organization by wasting funds and labor and time?
I hope GM can turn things around in a way that doesn't crush its individual employees and retirees. I hope GM can find a way to build a car I could love. I hope GM can be reborn as a great company. But if it is destined to lumber into failure, I just hope it dies quickly. Because I want to see what all those people can do once they are freed of the big, bureaucratic monster.
Posted by Bob Pritchett at 9:28 AM | TrackBack
December 8, 2005
What the dentist taught me about ignoring customers
I liked my dentist, but I see now that it wasn't for any reason beyond his nice smile and my inclination to trust professionals. Blessed with great teeth, I had only spent much time with his chatty hygienist; his "exams" were cursory pokes and pleasantries. Spending time with the dentist himself was a valuable and humbling lesson in paying attention to customers.
Blissfully uninitiated in the ways of oral torture I showed up recently for what I was later told was "the simplest procedure of the day" -– for the dentist. (It was the most complex procedure of my day.) I foolishly sat down and opened my mouth as instructed, imagining that after a quick look the dentist and his assistant would tell me what they were going to do, how long it would take, and other useful information. Instead they unexpectedly shoved a sheet of magic latex in my mouth and I disappeared.
Well, I think it was magic latex; I never actually saw it. But apparently it did make me disappear, because neither the dentist nor assistant saw me again until it was removed. They chatted with each other about contestants on reality TV. They casually observed, after almost finishing and raising my hopes for removal of the latex gag, that the dentist had worked on the wrong tooth. Without apology or explanation they just started over on the right (?) one while continuing their conversation.
They acted like any two retail clerks sharing a few moments of gossip while stocking shelves, except that, unlike the shelf stockers, they both had their fingers in a conscious customer's mouth.
Make that ex-customer's mouth.
If my dentist can forget to see the customer inches from his face, how much easier is it for me to ignore my much more remote customers? The week before visiting the dentist I was at a trade show where we had a large booth with a meeting area right in the middle. Often I continued meetings with colleagues while a customer perused our literature and waited for a salesperson to help him. Being ignored by my dentist days later filled me with shame for letting customers see me sit there with co-workers while they went unattended.
It is alright to spend time on things other than the customer. It is okay to talk with colleagues. It is not okay to ignore the customer in front of you. When the dentist is in the exam room the patient should not be ignored. When I am in the trade show booth the customer should not be ignored. Disney's guidelines for employees –- referred to as cast members -– have it right: when we are with customers we are on stage. And if we too often forget it, we will lose our audience.
Posted by Bob Pritchett at 9:41 PM | TrackBack
December 6, 2005
Practical Articles for Entrepreneurs
Joseph Hadzima, at MIT, has written a series of great articles on practical issues in entrepreneurship. The articles are short, clear overviews of subjects many new entrepreneurs don't think about.
Posted by Bob Pritchett at 7:00 AM | TrackBack
December 5, 2005
Save your packing peanuts
When my new crystal bowl / laptop / sno-globe arrives in a box full of packing peanuts, I dump them into a trash bag and drop them off at our reception desk. All of the old timers at Logos do this as a matter of course, because the peanuts get reused in outgoing shipments.
In the fourteen years since our first software was shipped from her kitchen table my mother (who still runs our shipping department) has only purchased packing material once. And then only in desperation and shame.
We ship hundreds of packages every week, but we don't waste resources doing it. The inner boxes in which our retail boxes arrive are intentionally sized, and reused, for outgoing multi-pack shipments of assembled product. The regular recipients of bubble-wrap and packing peanuts in our small downtown know that we will be by to collect it. This does not save a lot of money, but the savings add up over time and it is a very practical example of recycling an otherwise worthless and litter-prone material. Who could object?
Our newer employees, it appears.
Recently an email to the whole company explained that we are getting low on packaging material and encouraged everyone to bring in their peanuts. The next day my assistant told me that the grapevine was buzzing with indignation. It was unseemly, I heard third-hand, that a successful company like ours would ask people to bring in their packing peanuts. Why, I buy clean new peanuts when I ship things, someone said.
Respecting the anonymity of the grapevine, I asked my assistant not to tell me who these whiners were. "Just have their department manager fire them all," I declared. "I don't want to make it personal, but if someone thinks this recycling is stupid, we can't afford to have them hanging around making other wasteful spending decisions."
A moment's reflection caused me to redirect the judgment, though. Most of our employees were hired after our move into beautiful wood-trimmed offices and during a period of sustained profitability. They had not been around when everyone sat at folding tables and used shower paneling for whiteboards. They did not remember when your paycheck arrived with a request to wait a day before depositing it. They could not imagine the office without a free one-button latte machine.
Along the way to becoming a company that spends on things it can afford – morale boosting free lattes – I let us become a company that wants to spend on things it should not afford – packaging peanuts that are otherwise available for free.
Corporate culture needs to be cultivated. It needs to be planted and watered and pruned and weeded in every new hire. In a fast growing company the new hires can quickly outnumber the old timers and without direction they will redefine the culture. I did not give that direction and I let the scrappy, frugal part of our culture wither away. And now I need to plant it again.
Posted by Bob Pritchett at 7:00 AM | TrackBack
December 2, 2005
Whiteboard Elves
My partner and I started our company as a hobby project to keep up our programming skills. Today, of course, I don't do any programming; my time is consumed by management and strategy and a million other things.
A conversation with someone in our text processing department led me to imagine a small utility program to facilitate keyboarding in ancient languages. A few years ago I would have written something like this myself, but I don't have the time now. So I drew this diagram on a whiteboard.
The next afternoon I returned to the office with the whiteboard and a programmer showed me the first working version of this program.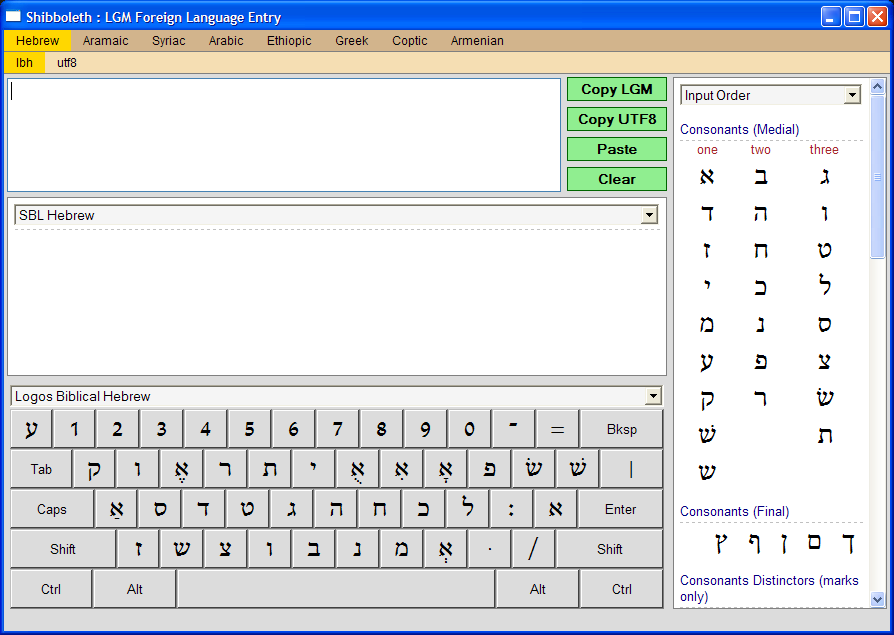 "I'm a whiteboard elf," the programmer explained. Like the shoemaker in the fairy tale, I had only to lay out the leather. The elves then made the shoes overnight.
I miss programming. I miss creating something from nothing, turning an idea into a product. Like so many entrepreneurs, I no longer exercise the skills that enabled me to start the business.
The upside is that my business is no longer constrained by my skills and capacity. Our programmers are more talented than me and the team is able to produce more than I ever could alone.
I loved being a software shoemaker, doing everything myself, and sometimes I miss sewing the shoes. But having a talented team of whiteboard elves is pretty fun, too.
Posted by Bob Pritchett at 7:00 AM | TrackBack
December 1, 2005
Blogging a Start-up
One of the coolest things about the Internet is finding people you had lost touch with. I grew up with the Kamholz brothers, who lived two doors up the street, but have only seen them once since I moved west during college. We reconnected over the Internet, though, and now we follow each others' careers and families online.
Andrew Kamholz recently started a new company, and he is blogging it every step of the way. Yesterday's post on cash flow and the blow to personal pride involved in having to put in more personal funds brought back lots of unpleasant memories for me. It is also an example of the 'full disclosure' that makes his blog great reading.